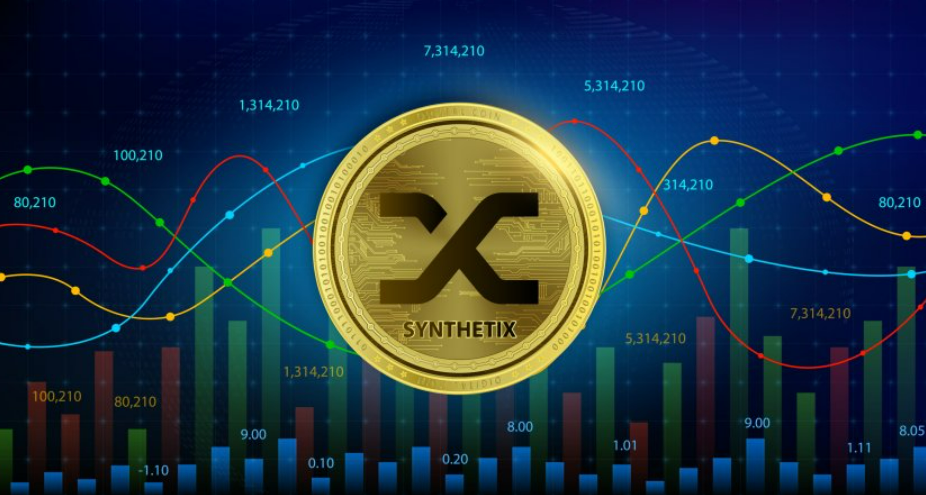 The advanced decentralized finance (DeFi) platform Synthetix was introduced in 2017 by Kain Warwick, a Sydney-based entrepreneur. As the name implies, synthetic assets are tokenized representations of various assets, including cryptocurrencies, fiat currencies, and commodities. Synthetix users may trade using these assets.
The SNX token, an ERC-20-compliant cryptocurrency utilized for staking and governance, serves as the foundation of the Synthetix network. The guide below will examine the SNX cryptocurrency's most recent price movement and price predictions.
What is Synthetix (SNX), and what does the price prognosis for Synthetix for the foreseeable future hold? Let's investigate.
SNX: Utility and tokenomics
Let's examine some important details before getting into the Synthetix pricing forecast.
For Synthetix's debt pools, SNX is primarily utilized as a staking token. Users stake SNX, utilized as collateral until redemption, to get "synthetic" assets. When staked, SNX is set to work collecting fees from the platform and staking incentives via Sythetix's inflationary tokenomics.
SNX is also used as a governance token. Holders of SNX can propose and vote on protocol modifications. The inclusion of commodities (gold and silver) synths, base borrowing rates, and exchange costs have recently been proposed.
With a circulating supply of 114.84 million and a maximum supply of roughly 212 million (54%), SNX is now selling at $2.83. Market capitalization now stands at around $324 million.
SNX is an inflationary token in terms of token emission rates. The technical paperwork states that until September 2023, when an annualized inflation rate of 2.5% is reached, inflation will decline at a pace of 1.25 percent each week.
Several major exchanges support SNX in the open market. Binance, Coinbase, FTX, and Kraken are a few well-known exchanges where SNX may be traded.
Team
The people that founded Synthetix has a solid background in the team. In September 2017, the project debuted under Havven (HAV).
Kain Warwick, the project's originator, and non-executive director, have been crucial to its development. He has previously worked on various companies and cryptocurrencies before creating Synthetix.
The CEO, Peter McKean, has over 20 years of experience as a manager or programmer in the software sector.
CEO of Synthetix is Jordan Momtazi. He has experience working as a sales leader and business strategist and has a strong track record in blockchain, cryptocurrency, and e-commerce initiatives.
The CTO, Justin J. Moses, formerly held the director of engineering at MongoDB.
Over the years, the team has shown its expertise, and I could see that the Synthex community adores them. The community is quite active in producing, choosing updates, and other similar activities for the project, which is mostly open-source.
Community
The community of traders and developers at SNX is incredibly active and dedicated to utilizing and enhancing the platform. Since Synthetix is an open-source project, as we've previously established, community involvement is crucial to the project's progress.
In the main Synthetix telegram channel, which has over 7100 community members, the Discord group, which has over 28000 members, and the Synthetix Community board, where users may also submit blogs and debate and vote on platform choices.
Additionally, SNX is well-liked on YouTube and other media. Over 70 times a day, its ticker $SNX is discussed on Twitter. Additionally, well-known cryptocurrency YouTubers like BitBoy Crypto, whose channel has 904 thousand subscribers, often include videos about SNX.
It is reasonable to assume that SNX has significant internet popularity and an active community.
Tokenomics
Over time, the tokenomics of the SNX token have seen substantial alterations. It was formerly deflationary, but an upgrade in March 2019 altered that. To incentivize users to produce more, it offered the potential for synthesizers to be minted once staked.
The initial incentive for minting is to reward them with protocol-level inflation. And secondly, as we already indicated, the commission's weekly profit distribution is 0.3%.
The upgrade included a 1.25% weekly reward drop starting in December 2019 and a 2.5% yearly inflation starting in September 2023. The community endorsed the modifications and provided more details.
A total of 212,424,133 coins are available at this time, of which 114,841,533 SNX are in circulation as of February 2021.
Use case
As we previously said, SNX runs on the Ethereum blockchain. It enables holders to produce Synths, synthetic assets in ERC-20 tokens, which are replicas of the underlying assets. And to guarantee that it has the correct pricing information, it has partnered with Chainlink, the leading provider of Oracle solutions.
The platform's complete decentralization attracts many of its users to Synthetic. Naturally, this isn't the case with conventional stock brokers like eToro.
User transactions with Synths are carried out via smart assets. There is no need for an order book since the transaction takes place immediately. A token is transmitted to the zero address, also known as the exchange address when a trader trades it. In exchange, the trader will get the token for the virtual asset he purchased and pay a 0.3% commission. However, no business retains the commission as profit as a conventional broker. Instead, it is dispersed across all SNX stackers by being transferred to a pool.
Let's now examine their native coin, the SNX. Users use it to produce fresh synthetic assets, and they must set aside 750% of the value of each new asset they create in SNX to staking the token. Skeptics of SNX often question the method since not all exchanged synths receive coverage. Because certain activities are under the supervision of specialists, others contend that this is not true decentralization.
The ownership of a synthetic asset is not the same as the ownership of the underlying asset itself, which traders should keep in mind. You won't get dividends or airdrops, for instance, even if it does provide certain benefits. Or, if it involves cryptocurrencies, you obviously won't be able to use them as money.
Extracted from the Synthetix whitepaper
The Synthetix ecosystem has produced a "peer-to-peer payment network and price-stable token that does not depend on a central authority to maintain confidence," according to the 28-page whitepaper.
The paper continues, "Programmable blockchains enable the transparent decentralization of a payment network's logic, allowing anybody to confirm the network's financial viability. As a result, systemic risk is removed, and centralized network prices are decreased.
Price movement
Throughout 2021, SNX took a somewhat different course than some of the altcoin price patterns. Things got off to a good start with a strong bull run that lasted all of February and reached an all-time high of $28.77 on the 14th of February. This price was mostly maintained throughout May when SNX reached a high of $23.01 on the 18th of May.
SNX saw a strong bull run during the first part of July despite the ensuing drop, which caused its value to plunge to $5.21 on the 26th of June, 2021. A significant rise was seen up to $12.93 on the 14th of September. Since then, even in November, when the cryptocurrency market generally picked up steam, a long-term downward trend has been visible.
However, amid this downturn, brief upswings might be seen. In addition to an extended downturn that lasted until early February, similar tendencies were seen in late December and early January 2022.
But this year's mid-May and mid-June flash collapses put the value of the larger crypto markets into a tailspin. By the 18th of June, STX was trading at lows of $1.45, the lowest price seen over two years, as the entire market cap of cryptocurrencies plunged below $1 trillion. However, there was another significant reversal in the days that followed, and by the 20th of June, Synthetix was trading between lows of $1.98 and highs of $3.34. Since then, the token has mostly moved sideways, and as of the 21st of July, it is now valued at roughly $2.83.
pricing objectives for forecasts
The Synthetix coin is expected to have a sharp collapse in value shortly, dropping as low as $0.39 and losing roughly 90% of its value. According to the forecaster's Synthetix pricing projection for 2025, losses are anticipated to persist in the next years.
At DigitalCoinPrice, the future is less gloomy, and the Synthetix price estimate for 2022 is an annual average of $3.66. Long-term price goals include $5.74 for 2025, rising to a Synthetix price forecast of $12.88 for 2030, resulting in potential returns of over 360%. This is still well behind the token's record high, which was $28.53 over a year ago.
In its study, five of the 26 technical indicators that DigitalCoinPrice considered suggest selling, ten suggest purchasing, and eleven are neutral.
A rather optimistic SNX price forecast is also available from PricePrediction.net. Price goals include $3.26 by the end of 2022 and an average price of $9.99 per year by 2025, which will increase to $21.29 by 2027. The forecaster's Synthetix price forecast for 2030 indicates a potential price point of $64.06 with potential 30-times profits.
According to LongForecast's Synthetix price forecast, the token may suffer both immediate and long-term severe losses.
Please remember that the SNX coin price prediction projections shown above are based only on historical trade data and do not account for future market volatility or fundamental variables. Before making a financial commitment, potential investors should always do their due diligence on the project.
The most trustworthy price forecasts for Synthetix Network Token (SNX) have been compiled below from well-known websites.
Price forecast for Synthetix Network Tokens in 2022
Divergent perspectives exist on Synthetix Network Token price forecasts for the remaining months of 2022. By the end of the year, PricePrediction.net predicts a decline to $3.36, while TradingBeast agrees with $2.86634. Other analysts, like those from WalletInvestor, are more optimistic about the future price of Synthetix Network Token, suggesting values as high as $6.179 in December.
Price forecast for Synthetix Network Tokens in 2023
According to TradingBeast's projections for the price of Synthetix Network Tokens in 2023, the coin will cost more than $4.09302 by December. PricePrediction.net, a website that predicts future trends, predicts that Synthetix Network Token will continue to rise in value and eventually reach $7.39. On the other hand, WalletInvestor consistently forecasts a drop in Synthetix Network Token price, citing values of roughly $0.8075 in 2023.
Price forecast for Synthetix Network Tokens in 2024
The majority of analysts' predictions for the price of Synthetix Network Token in 2024 are still optimistic, with some predicting ranges between $5.48088 and $10.73 (TradingBeast, PricePrediction.net), while WalletInvestor expresses a different opinion and suggests that the price may drop as low as $0.6015 in December 2024.
In its 2025 Synthetix Network Token price forecast, TradingBeast is upbeat, estimating that the token would be worth $6.54982 by the end of the year. PricePrediction.net concurs with the optimistic estimate and predicts $15.6 for the same time frame. The team at WalletInvestor, on the other hand, is more negative; they expect the price of the Synthetix Network Token to be only $0.522 in December of this year.
Regarding long-term estimates for the price of Synthetix Network Tokens in 2030, experts provide two opposing viewpoints. According to TradingBeast, the price of Synthetix Network Token will continue to rise until it reaches $8.842257 by the end of the decade. PricePrediction.net's forecast of an upward trend for the Synthetix Network Token's price to $107.05. Despite this, WalletInvestor's outlook is still not great, predicting a decline of $0.15138.
Where can I acquire tokens for Synthetix?
All reputable exchanges include this token on their product palette as innocent investors. Trading Synthetix directly on various exchanges that monitor the data for fiat money like USD, EUR, GBP, etc., or other cryptocurrencies usually benefits you as well.
Can I use SNX to generate money?
Sure. Given that the Synthetix token is relatively new, its performance is expected to be fairly positive for at least five years. Data on price change may be carefully monitored. Users are urged to do their calculations after reading the demand and supply patterns of traded assets and lucrative market forecasts for trading in Synthetix, Bitcoin, and other digital currencies.
Why is the cost of Synthetix rising?
The users' confidence in the traded item is to blame for the price growth. The fact that SNX is listed on the market is also a wonderful indicator of how well it will do as a coin. Based on forecasted statistics, it makes sense that the Synthetix token indicates a steady climb, making it a good investment.
The ERC20 protocol for Ethereum is compatible with the Synthetix coin and is protected by PoS consensus.
Conclusion The study stated above shows that Synthetix Network Token (SNX) estimates are a little conflicting. There is no general agreement regarding potential future SNX price changes, whether favorable or negative. Indeed, future potential growth depends on several variables, including announcements, new technical developments in the Synthetix Network Token initiatives, the overall crypto environment, legal status, etc. We would like to gently remind you to do your research before making any bitcoin investments (DYOR).