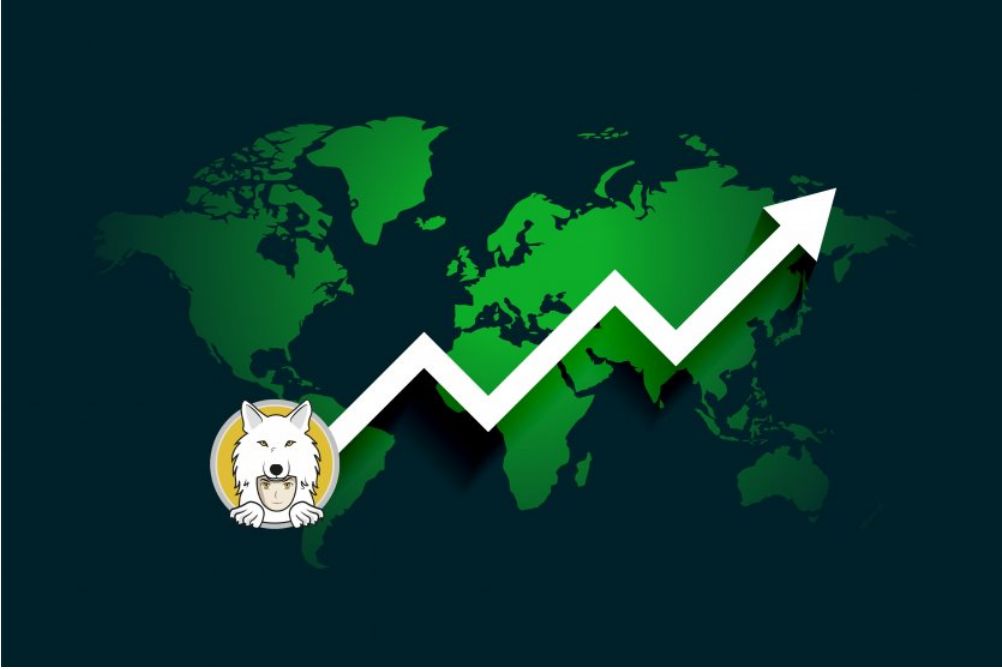 Contents
What is Saitama (SAITAMA)?
The optimistic beginnings of Saitama
Bearish sentiment shifts in Saitama
Price Forecast for Saitama
FAQs
Younger investors are flocking to bitcoin, but most are perplexed and disillusioned with the business. At least, that's the argument made by Saitama, a new cryptocurrency and platform aimed at educating this generation, according to its creators.
Saitama has received a lot of attention with the debut of its mobile wallet. Its goal is to deliver to the crypto world informative and user-friendly platforms. However, Saitama has encountered difficulties along the road, and its coin is failing to gain traction in the crowded crypto market.
In a move to disassociate itself from the meme community, it has stated that it is switching to the second version of its token. Investors have lately been positive about Saitama as a result of this overhaul.
What is Saitama (SAITAMA)?
Saitama's mission is to educate younger investors about cryptocurrency by making it easy, safe, and accessible. According to the Saitama whitepaper, its target demographic is Generation Z (those born between 1997 and 2012), with 93 percent feeling confused and dissatisfied with cryptocurrency.
Saitama intends to launch an ecosystem of goods to promote cryptocurrency knowledge and acceptance among the younger generation. A smart wallet, marketplace, NFT platform, and instructional content platform are included.
SAITAMA, the network's ERC-20 token, was designed for platform transactions with tokenomics that benefit its holders. A percentage of each transaction is deducted and distributed to a group of holders as a type of passive income. A deflationary tokenomic scheme meant to make it more valuable burns another 2% of every transaction.
Unlike other meme tokens, Saitama claims that it has genuine value created from this ecosystem. If the price history of the token is any indication, there seems to be a sizable community and desire for it. But will it be able to keep its consumers interested long enough to achieve $0.01?
The optimistic beginnings of Saitama
SAITAMA is a new token, having just been released on June 18th, 2021. The creators have remained nameless, and the moniker stems from an alleged ghost dog roaming Japan's Saitama area. It began trading at $0.00000000004 (four billionths of a penny) and remained at that figure for many months. However, it wasn't long before the token's value began to rise.
On September 24th, Saitama announced the beta test of its SaitaMask wallet. This mobile app enables users to keep track of their assets and is accessible to any level of investor, and by September 27th, 2021, the price had grown to $0.000000015. (1.5 millionths of a cent).
SAITAMA rose even higher in October, thanks to a flurry of announcements that enthralled the Wolfpack, the community's nickname. On October 12th, Willie Dennis, a member of the rap group Geto Boys, joined Saitama. His job included securing high-level collaborations in various businesses, including the entertainment industry. On October 17th, 2021, the SAITAMA price hit $0.00000002 (two millionths of a penny).
The cryptocurrency exchange BitMart announced the listing of SAITAMA a day later. The token was exclusively linked with USDT. However, by the time the listing became live on October 26th, 2021, the token had risen to $0.00000007. (seven-millionths of a cent).
SAITAMA maintained its momentum, and the token grew in value. Like other meme tokens, Dogecoin witnessed a positive market in early November, and the educational currency was no exception. SAITAMA soared to $0.0000001 on November 3rd, 2021. (one hundred-thousandth of a cent).
Another factor that might have contributed to SAITAMA's rise in early November was announcing a launch date and event for its wallet. On November 13th, SaitaMask had its debut party at the Hakkasan Nightclub in Las Vegas.
ACCORDING TO A NEWS RELEASE, former NBA and NFL players, as well as hip-hop musicians and Hollywood luminaries, were among those who attended. SAITAMA hit an all-time high of $0.0000002777 (2.777 hundredths of a cent) on November 16th, 2021, after the celebration.
Following the party, the token's value decreased due to various circumstances. First, Saitama said its wallet would not be available to the general public for many weeks.
Even worse news came later that month for Saitama's self-described Wolfpack community. Dennis' past conviction for wire fraud from 2010 was revealed, prompting a warning on Saitama's CoinMarketCap profile, which was subsequently deleted. The SAITAMA price dropped to $0.00000006 by November 26th.
After a listing on crypto exchange LAToken on November 29th, the price saw a brief rise. It, like Bitmart, only had one pair of USDT. Despite this, SAITAMA continued to plummet over the following month, reaching $0.00000003 (three-millionths of a cent) on December 17th.
For the educational token, the beginning of January 2022 proved to be a more successful time. SAITAMA was surging while many other cryptocurrencies were falling. Saitama announced a five-day countdown to the launch of its mobile wallet on January 3rd. The next day, the price soared to $0.00000008 (eight-millionths of a penny).
The native wallet, SaitaMask, was eventually released on January 8th, although there were still issues. Due to the platform's delays, several tokens, like Lilly Finance, decided not to proceed with their listings.
For most of February 2022, SAITAMA was in a negative trend. After an upgrade to the wallet, it began soaring again on February 28th, reaching a peak of $0.00000001799 on that day. The currency, however, saw a sharp drop on March 4th, beginning at $0.00000001789 on that day and plummeting to $0.00000001089 on March 18th, 2022.
On March 28th, 2022, the token rose as it was listed on the OKX platform with a USDT pair. This time it reached a new high of $0.000000018. The following month, it was also announced that it would be listed on the Hotcoin exchange.
Saitama made a big announcement in May, announcing that its token would be updated to version two. The goal was to strengthen security with multi-sig wallets, become more exchange-friendly, and move away from the meme token category with this step.
The supply will be drastically reduced due to this update, with the hopes of lowering the price. Two tokens may be exchanged for one million original Saitama tokens in one Saitama version.
"Saitama began as a meme token inspired by a famous anime series and was part of the INU dog-themed sub-group," stated a PDF.
The V2 contract will witness the end of INU and the classification of Saitama as a utility token, assisting us in our goal of becoming a top project in this sector."
Saitama is now trading at $0.000000003 at the time of writing on May 27th. Will the new utility token's rise continue throughout the migration?
Below, we've compiled the most credible pricing forecasts for Saitama (SAITAMA) from major forecasting sites.
There are differing perspectives about Saitama pricing forecasts for the remainder of 2022. PricePrediction.net predicts a drop to $0 by the end of the year, and WalletInvestor agrees. Other analysts, such as TradingBeast, are more optimistic about Saitama's future price, predicting $0 in December.
Price Forecast for Saitama 2023
PricePrediction.net predicts that the coin will fall to $0 by December in their Saitama price predictions for 2023. When it comes to the future of Saitama, WalletInvestor predicts that its price will continue to fall, with the Saitama price reaching $0 by that time. TradingBeast, on the other hand, continues to forecast Saitama's price rise, estimating $0 in 2023.
Price Forecast for Saitama 2024
Saitama price forecasts for 2024 are still mostly negative, with some experts predicting prices in the $0–$0 range (WalletInvestor, TradingBeast), while PricePrediction.net believes the price might hit $0 in December 2024.
Price Forecast for Saitama 2025
TradingBeast is optimistic about the 2025 Saitama price projection, estimating that Saitama will be worth $0 by the end of the year. PricePrediction.net concurs with the optimistic projection and forecasts $0 for the same period. WalletInvestor's staff, on the other hand, is more negative, predicting a Saitama price of $0. in December of this year.
Price Forecast for Saitama 2030
Regarding long-term Saitama price forecasts for 2030, experts have two opposing viewpoints. PricePrediction.net believes that the price of Saitama will not rise anymore and, instead, will fall to $0. The price prognosis for Saitama by WalletInvestor coincides with the expectation of a fall to $0. Despite this, TradingBeast's outlook is upbeat, with a growth of up to $0.
As can be seen from the preceding research, Saitama's (SAITAMA) estimates are rather conflicting. There is no general agreement on whether future SAITAMA price fluctuations will be favorable or negative. Indeed, potential future development is dependent on several circumstances, including announcements, new technology solutions developed by the Saitama projects, the crypto ecosystem in general, legal status, and so on. We would like to remind you that you must do your research before investing in any cryptocurrency (DYOR).
FAQs
SAITAMA has a total supply of over 44 quadrillions, according to CoinMarketCap. The coin operates on a deflationary basis, with 2% of each transaction being burnt. As a result, the supply will decrease with time.
Is it wise to invest in Saitama?
It's possible. Saitama was just founded in 2021, yet its token had skyrocketed by November of that year. The price, however, has subsequently plummeted and is now hanging at $0.000000003.
Saitama, like other cryptocurrencies, may be very volatile, so never buy more than you can afford to lose.
Will Saitama be able to rise?
According to most forecasts, SAITAMA is expected to rise in price in the next years. The coin is expected to reach $0.00001 in 2023, according to Crypto Academy, as its platforms become more widely accepted. CoinCodex, on the other hand, forecasts a gloomy market for cryptocurrency.
Remember that price estimates are subject to error, so conduct your research before investing.
Should I put money into Saitama?
It is debatable. In 2022, Saitama plans to introduce many additional platforms to its ecosystem and a significant token update, although it has repeatedly missed its deadlines. Saitama's anticipated release date for its NFT platform and marketplace has been called into doubt due to this.
Always remember to perform your research before investing.